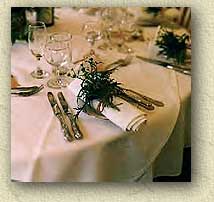 SIZE OF EVENT
Does the event require rental space?
Generally, events of 100 guests or more
require a suitable space. Our event
planning service will assist in finding elegant
locations for groups of 50 to 10,000.
TYPE OF EVENT
Is the event corporate, private, casual, formal, or theme-oriented? Our knowledgeable staff can recommend the right place for every affair. We also help stage the events.
BEVERAGE SERVICE
Do you need a full premium bar? Is it more appropriate to include only wine or mineral water? Specialty bars, serving margaritas, mimosas, cappuccino or martinis, lend themselves nicely to theme-parties.
WAITSTAFF
Greg's Gourmet will staff your entire event with New York's finest chefs, waiters, bartenders, captains and coatchecks – on location or at your home.
RENTALS
We supply all rentals on tableware, chairs, linen, tents, and all staging supplies.
AMBIENCE
Additional services can include floral arrangements, music, dancers, decorating and designing theme parties and photographers.
© 2002 Greg's Gourmet Catering and Event Planning. All contents

copyright, all rights reserved.

Greg's Gourmet (212) 744-6885

Web Design and Web Construction: Philip Brandt

Email us at greg@gregsgourmet.com.